Louise Riggall – Louisa Riggall (Louie)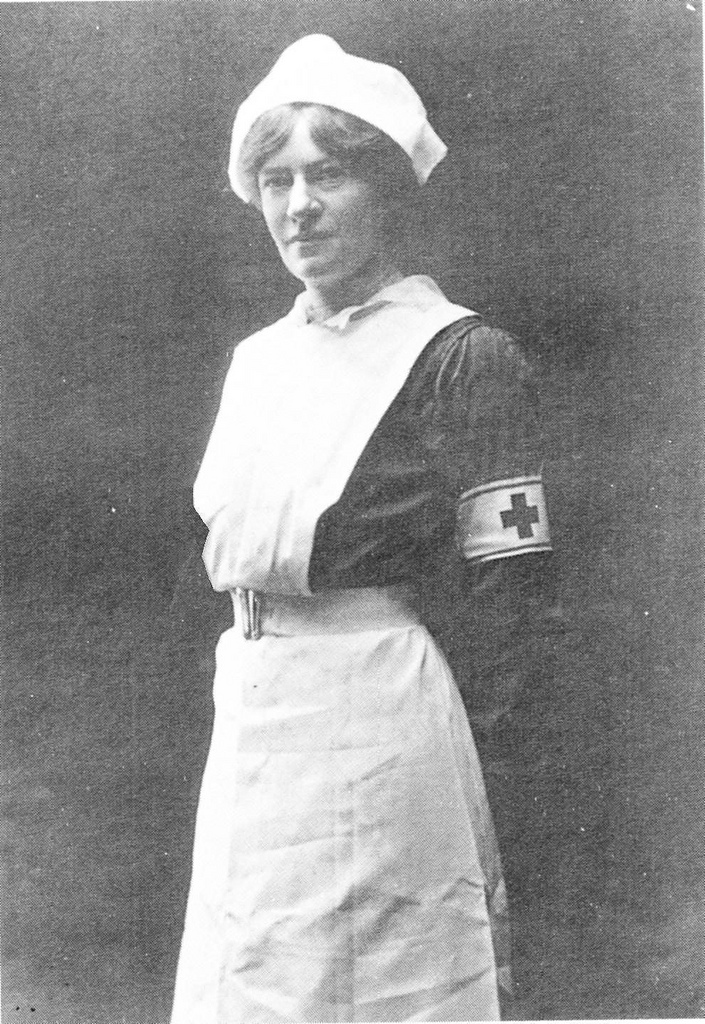 1868 –  1918
Australian Artist, Volunteer Aid Detachment during WW1
"I could not stop in Australia while the need for women at the front is so urgent. I am not a trained nurse, but I am willing and ready to serve in any capacity – in a kitchen or peeling potatoes, so long as I am helping the boys."[1]
Louise Blanche Riggall, also known as 'Louisa' and 'Louie' was born on 2nd March 1868, one of 11 children. She was a gifted artist who studied at Sale School of Mines, the Bendigo School of Art and the Delècleuse Atelier Paris. Louise toured Italy and France before returning to Melbourne,  where she worked in several charity roles.
When WW1 broke out in 1914, Louise joined the Voluntary Aid Detachment of the Australian Red Cross. She served at home working at Broadmeadows camp assisting recruits. She then went on to serve overseas. [2]
In 1915, Louise boarded the 'RMS Moldavia' headed to Egypt to work at the 1st Australian General Hospital. In 1916, the hospital relocated to Rouen, France. Louise sailed to Marseilles on the Hospital Ship 'Salta'.[3]
As a fluent French speaker, Louise was enthusiastically received: she was placed in charge of managing stores for the Hospital in Rouen. The hospital quickly grew to accommodate over 1000 beds. Louise's compassionate nature and tireless work ethic became widely known among hospital staff and convalescing soldiers. Soon Louise was supervising 12 hospitals in the area.
In addition to managing Hospital supplies, Louise took on extra duties; such as buying gifts for soldiers to send home to their relatives, furnishing the Red Cross Hall at Rouen, and arranging entertainment for convalescents. [4]
Louise died suddenly from a Cerebral brain haemorrhage in 1918. Her loss was deeply felt by Hospital Staff and the many soldiers she had cared for. There followed an outpouring of grief expressed in telegrams and letters. [5]
Louise was buried at the St Sever Cemetery in Rouen. Her name is recorded in the commemorative roll held in the Australian War Museum Canberra and on the Nurses Honour Roll in St. Paul's Cathedral, Melbourne. In 1935, a memorial and plaque in her honour were unveiled at the Johnson Street Memorial Hall in Maffra.
This Biography has been written in consultation with Pauline Hitchens – Maffra History.
Image  –  Louisa/ Louise 'Louie' Riggall VAD (Family Records)
Further Reading:
Find out more about the Heroism and sacrifice of Australian Nurses who died in World War two or survived years in prisoner of war camps during that time visit – The Australian Nurses Memorial Centre
Discover Her Place Women's Museum's digital exhibition Unmasked – Celebrating Nursing, Midwifery, Victoria and Beyond.  This Exhibition highlights the multiple and diverse roles of nurses and midwives: in civilian and military life, in peacekeeping spheres, practice, politics, business, activism and advocacy.
Louise Riggall's Art work: Painting, RIGGALL, Louisa (Louie), Untitled (Boats at Moorings), Painting, RIGGALL, Louisa (Louie), Untitled
Commemoration:  Louise Riggall
Louise is commemorated in a beautiful Opus Sectile Mosaic memorial designed by Brooks, Robinson and Company of Melbourne in 1935 mounted on the wall of Maffra Library. 
The plaque inscription reads: 
"LOUIE B RIGGALL V.A.D. Who Gave Her Life For The Sick And Wounded At Rouen"
Louise's commemoration is placed beside one dedicated to Sister Irene Singleton who died of illness in 1945 while a prisoner of the Japanese during World War Two on Banka Island.

Site: Maffra Library
Maffra library is situated in a historic building in the picturesque town of Maffra in Gippsland. The Library is located adjacent to the Maffra Public Hall.