Zelda D'Aprano AO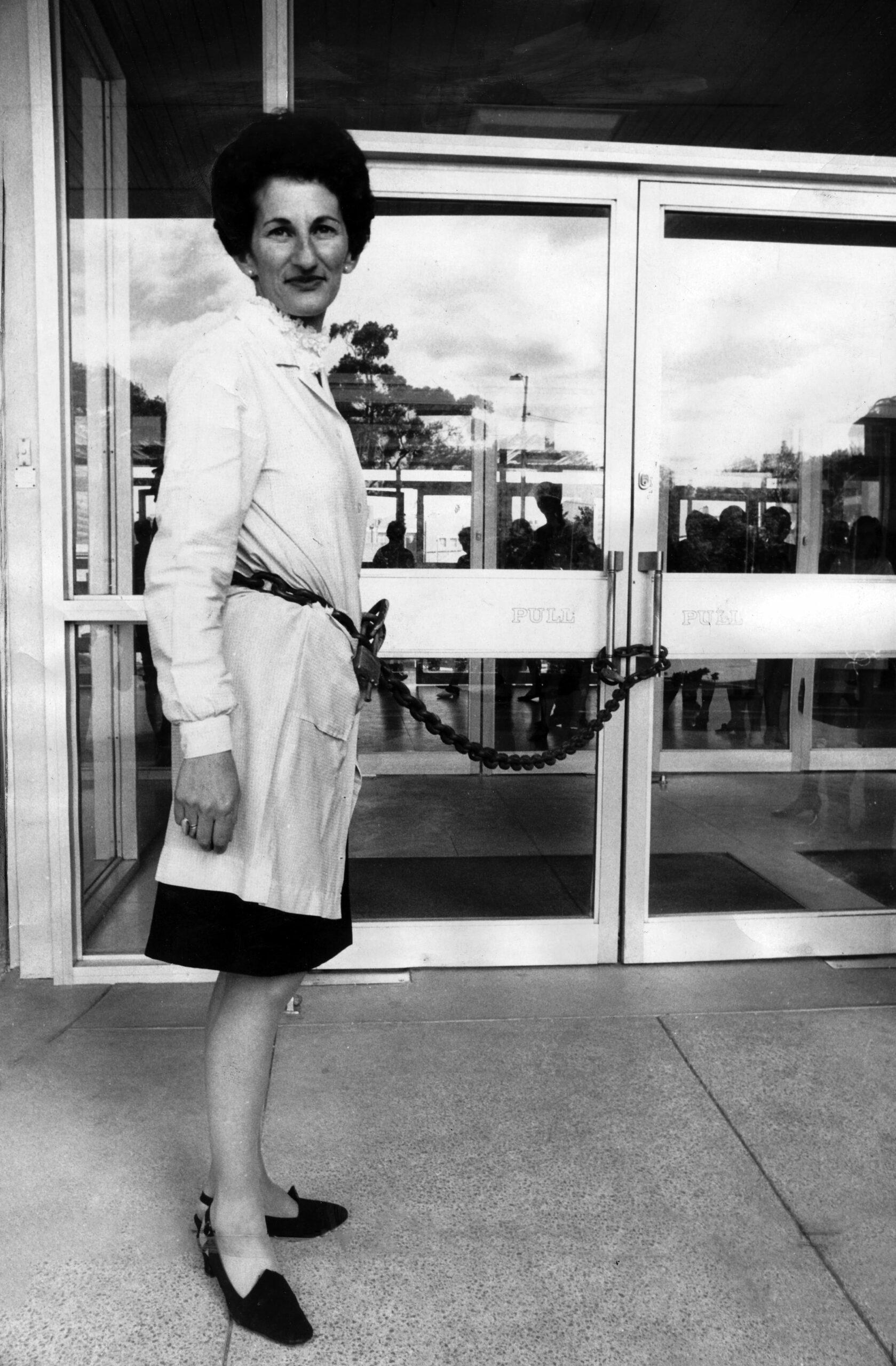 B: 1928
D: 2018
" I realised that unless we did something outlandish, know one would even know, because they controlled the press, and they'd just leave out anything that was positive about women"
Zelda D' Aprano spent her life fighting for equality for women.
One of Victoria's most prominent equal pay campaigners, she chained herself to the doors of the Commonwealth Building in Melbourne in 1969 to protest for equal pay.
"No more male & female rates, only one rate," her sign said.
Zelda was born in Melbourne and left school at 14 to work in numerous factory jobs. It was in these jobs Zelda began to identify inequalities women workers faced and took action to address them. She often lost her job because of her actions, setting in motion a pattern of events that would be all too familiar for Zelda. Zelda subsequently became a dental nurse, joining the Hospital Employees Federation No. 2 Branch, being elected shop steward, and beginning her career in the union movement.
Upon leaving her job in 1968 she took a position in the office of the Australasian Meat Industry Employee's Union (AMIEU). While at the AMIEU the union was being used as a test case for the Equal Pay Case at the Arbitration Court. The failure of this case was the catalyst for Zelda's first historic protest.
When Zelda was eventually cut free by police from the Commonwealth Building, she returned ten days later accompanied by Alva Geikie and Thelma Solomon. This time they chained themselves to the doors of the Arbitration Court. Zelda, Alva, and Thelma went on to found the Women's Action Committee and the Women's Liberation Centre. Zelda said, "we had passed the stage of caring about a 'lady-like' image because women had for too long been polite and ladylike and were still being ignored."
The Women's Action Committee led activists in campaigning across Melbourne. They rode public transport around Melbourne paying only 75% of fares because women were paid just 75% of men's wages; they did outdoor pub crawls across Melbourne because women weren't allowed to drink in bars, and the committee helped organise the first pro-choice rally in Melbourne.
Zelda spent her life in Melbourne, living and working in the heart of the city, after growing up and spending her childhood years in Carlton. She worked at the Melbourne Mail Exchange among others and set up the Women's Liberation Centre in Little Latrobe St.
She lived her final years in Princes Hill. Her legacy of activism has served to inspire generations of women leaders and activists since.
The picture of Zelda chained to the Commonwealth Building is now an iconic symbol of the struggle for equal pay, an issue that is still unresolved to this day.
Biography provided by Victorian Trades Hall
Photograph: Zelda D'Aprano – Historic Protest for Equal Pay, 21 October 1969. Fairfax Images.
Commemoration : "Chain Reaction", a figurative sculpture by artist Jennifer Mann, is a life-size bronze statue. The sculpture in bronze represents Zelda's iconic protest against gender pay inequality.
The sculpture has been commissioned by The Victorian Trades Hall Council and A Monument of One's Own with support from the Victorian Government through the Women's Public Art Program.
Site: Victorian Trades Hall
Victoria's Trades Hall, rising grandly from the northern edge of the Melbourne CBD, is a national treasure and a symbol of the aspirations of the Australian people. For over 150 years the Trades Hall building has given form to dreams of a better life for working people and their families. It is not only the birthplace of organised labour in Australia but also of Victorian Labor and the Australian Council of Trade Unions.
Find out more:  
Film :
Honouring Zelda D'Aprano: a trailblazer for gender equality, DFFH, 2023
Museum Case 19: Zelda D'Aprano – Equal Pay, Victorian Trades Hall, 2020.
Articles:
Zelda's self-published story in her own words – Zelda: the becoming of a woman Zelda, 1977 is available here:  Australian Biography: Zelda D'Aprano – Film Australia,
Waters, C, Fare fighter, pub crawler and feminist: Zelda D'Aprano immortalised in bronze,  The Age, May 30, 2023