Minnie Eason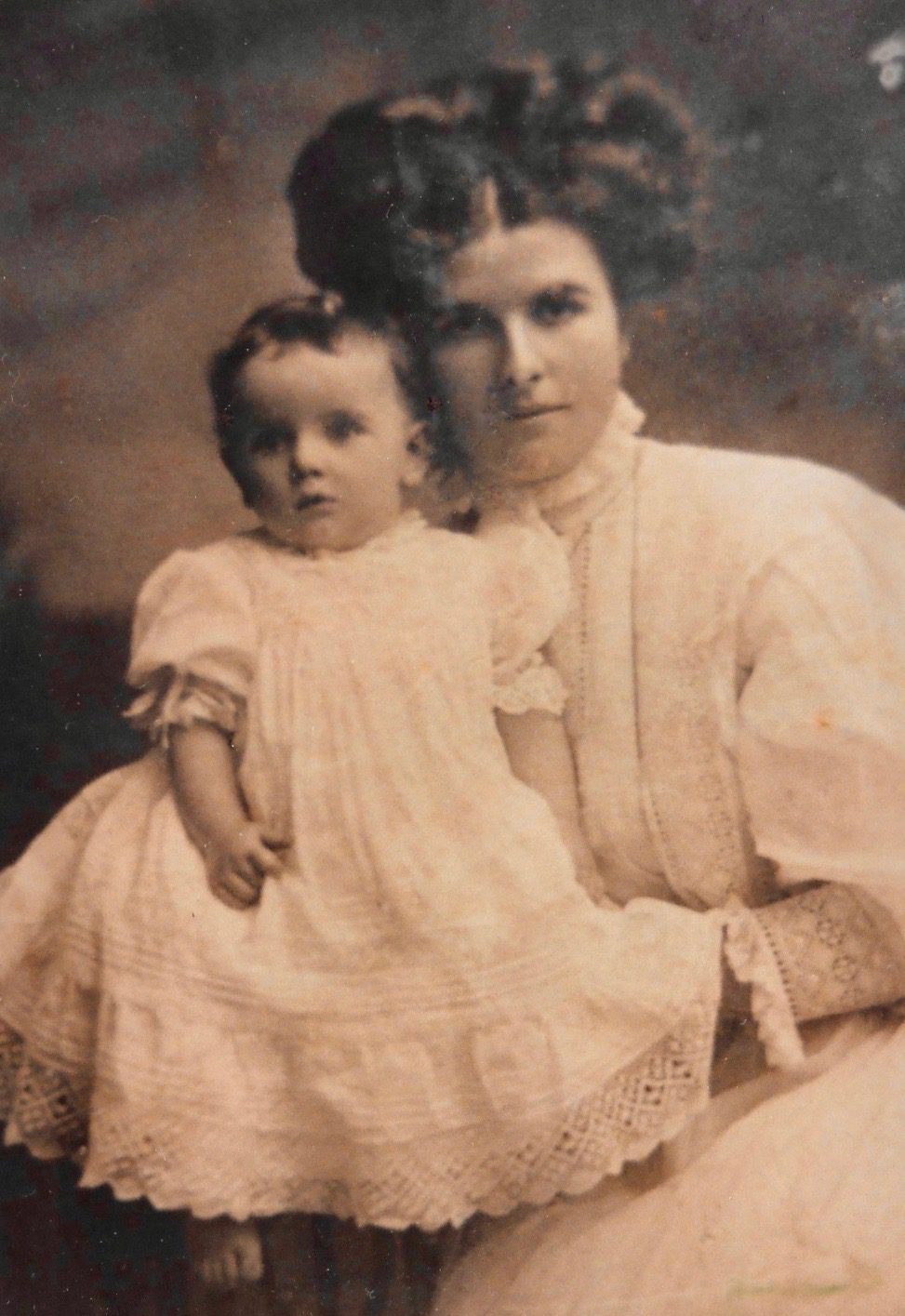 1882 – 1929
Mother, Involuntary Patient of Victorian Asylums
'Minnie is now coming out of the darkness and into the light as she begins her journey of significance after so long being insignificant,' Karen Collins – Loving descendant of Minnie Eason, 2022
Minnie Eason was born at Rosedale on 30 June 1882. She was the thirteenth child of Eliza and William Watts' fourteen children and grew up on the family farm.
Minnie's early life was shadowed by her father's death when she was five and her 21-year-old sister's death when she was seven. However, she grew up with a capable and resilient Irish Catholic mother in a large musical family, attending the Rosedale school, participating in community life and pitching in with the farm chores. Minnie learned to play the piano and participated in school recitals and concerts, and her love of music continued into her adult life.
When Minnie was 17, a 22-year-old teacher, William Lewis Eason, was appointed Head Teacher of two small rural schools in the Rosedale district. At some stage, they began courting and eventually married in the Rosedale Catholic Church in 1902. At this time, the Catholic Church and the Church of England vehemently opposed marriages between their congregations, perhaps creating difficulties for Anglican William and Catholic Minnie. The Rosedale Courier gave a detailed account of William and Minnie's wedding, exposing the absence of William's parents and six siblings.
Minnie and William continued living at Rosedale, and over the next six years two Eason children were born: Arnold in 1905 and Elma in 1908.
William held many leadership positions in the local community, including the First Master of the Rosedale Masonic Lodge. Given that the Catholic Church condemned Freemasonry, and Minnie attended weekly Mass playing the organ, William's ongoing involvement with this organisation would likely have presented challenges in his marriage.
William was appointed Head Teacher of Welshpool and consequently the family moved to South Gippsland in August 1909. A third child, Norma, was born in 1911. Minnie juggled many tasks, including caring for children, domestic duties, assisting William in school concerts and providing singing lessons to students. Tragically, in 1912, little Norma (aged 17 months) burnt to death while temporarily out of Minnie's sight. Compounding Minnie's grief, a priest allegedly blamed Norma's death on Minnie for marrying a Protestant. A month after Norma's death, Minnie's mother, Eliza Watts, died unexpectedly from a brain hemorrhage.
Minnie's mental health suffered following her child's death. According to the Victorian Mental Hospitals' Record, Minnie Eason experienced her first 'attack', caused by Norma's death, at 31, between eight and twenty months after Norma's death; her symptoms and their duration were not recorded. At this time, there was little understanding of trauma, complex grief and clinical depression; therefore, Minnie had few options for support and recovery.
In 1914, the family moved to Koo Wee Rup after William was appointed Head Teacher of the local school. Another daughter, Gwenda, was born in 1916, possibly triggering post-natal depression in Minnie. Significantly, William was frequently absent from his family home due to his increasing community volunteer management/leadership positions, sporting interests and Head Teacher commitments.
In 1917, thirteen months after the birth of Gwenda, Minnie suffered a second 'attack'. While the symptoms of this 'attack' are unknown, Minnie was diagnosed four months later with Dementia Praecox, a term no longer used today. However, her medical records give no evidence of this diagnosis.
William organised for Minnie to be committed to the Royal Park Receiving House, a psychiatric hospital, in August 1917. Minnie's clinical notes record:
Mr Eason states that his wife makes constant accusations of infidelity against him. Is violent and wilfully destroys furniture.
Minnie was committed to the Royal Park Receiving House based on William's belief that Minnie was jealous. Two male doctors supported William's judgement after Minnie told them she believed William was unfaithful and that he went wherever he pleased.
Detained against her will, Minnie lost everything that gave meaning to her life: all contact with her children aged eleven, nine and one, family and friends, access to music, a sense of purpose, dignity, hope, freedom, and the opportunity to attend church and other aspects of community life in which she had previously participated.
After five months of detention, Minnie attempted to escape and was subsequently granted Trial Leave for five months. However, William did not volunteer to be Minnie's required guardian. Instead, her sister from Rosedale, Jane Johnson, offered. Sadly, Jane returned Minnie to hospital six weeks later for unknown reasons.
William never visited Minnie once she was committed and divorced her as soon as it was legally possible, re-marrying two weeks after his divorce was granted. His new wife had lived in the Koo Wee Rup community, while Minnie lived there from 1914 to her committal in 1917. William re-married on Minnie's 41st birthday in 1923.
Despite another failed attempt to escape, Minnie remained an involuntary patient in Victorian asylums until she died in January 1929, aged 46. Minnie died alone and without visitors. Her final years were stained by abandonment, despair, isolation and unimaginable suffering. She was disempowered entirely, stripped of even the most basic of freedoms and at the mercy of patients, doctors and staff. Minnie lived out her days in degrading, overcrowded, unsanitary conditions, vulnerable to violence and cruelty.
Minnie was buried in the Rosedale Cemetery in an unmarked grave.
In recent times, Minnie's great-granddaughter, Karen Collins, undertook a quest to understand the life of Minnie Eason. Karen's research led her to write a book, Into the Darkness: The Story of Minnie and William Eason uncovering some of the following issues that existed in the early 20th century:
The lack of medical understanding and, therefore, treatment of complex grief, trauma, depression and post-natal depression;
A brutal mental health system that incarcerated vulnerable people;
Sectarian divisions and
Patriarchal attitudes and power.
In July 2022, Karen's family, friends and representatives of the Rosedale community acknowledged the life of Minnie by lovingly unveiling a headstone on her previously unmarked grave to honour the memory of a life not forgotten.
Sadly, Minnie Eason was only one of many silenced women of her era who died in Victorian asylums.
This Biography was provided by Karen Collins, descendant of Minnie Eason.
Find out More:  Download Karen Collins's Book Into the Darkness – The Story of Minnie and William Eason at www.intothedarkness.com.au
Readers are invited to donate to  Gippsland Women's Health.
Audio – Karen J Collins, Minnie was committed to an asylum by her husband, she never saw her children again – ABC Gippsland
Photo: Minnie and Elma Eason, c:1908
Site: Rosedale Cemetery
Rosedale Cemetery was the earliest European cemetery in the Latrobe Valley area. The earliest marked graves date from 1860. However, official records did not start until  1866 and were incomplete until 1874.
Monument: Minnie Eleanor Easen Headstone
Family, friends and representatives of the Rosedale community gathered for the special occasion of unveiling Minnie's headstone on 2 July 2022. Minnie now has the appropriate recognition, respect and dignity she deserved.
Support is available: If you or a friend needs mental health crisis support, please
contact: Lifeline Call 13 11 14 – This is a 24/7 service.