Madame Brussels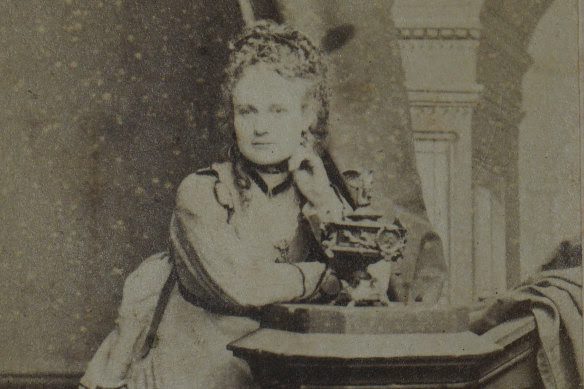 1846-7  – 1908
Entrepreneur – Brothel Proprietor
In the 19th Century, Caroline Hodgson – widely known as Madame Brussels was one of the most successful and influential Brothel Keepers in Melbourne. At the height of her career, her clients included parliamentarians, wealthy businessmen, and members of the legal profession
Caroline was born Caroline Lohmar near Potsdam in 1846 – 7.  She was said to have been an exceptionally beautiful, well spoken and cultured young woman.  In 1871, in her early twenties, she married Studholme Hodgson in London and they left for Melbourne soon afterwards. At the end of 1872 Studholme joined the police as a mounted constable, and left Melbourne in early 1873 to work in Mansfield, Caroline stayed in Melbourne.
"We don't know if she did not want to go with him, or if the marriage broke up for other reasons, but that's how she started out – she had no money, no way of making an income." says historian Barbara Minchinton.[1]
Initially  Caroline set up and ran a boarding house in North Melbourne.  However at this time in Victoria, sex work was legal and Caroline was an astute business owner.  During her first year of business Caroline transitioned her boarding house into a lucrative Brothel. Within two years of trading, Caroline was able to buy a house on Lonsdale Street. [2]
The first recorded mention of the name 'Madame Brussels' is in 1879 – her own house was expensive, but she used this business name for her two less expensive rented houses.  Her successful business expanded to three Brothels. These well-lit, extravagantly furnished Bordellos, known as 'flash houses' drew a high-class clientele.
By the 1880's, Caroline was a highly successful business woman and Madame Brussels was an Iconic local identity. Caroline was well thought of by the women she employed and had a reputation for running clean houses –  but times were changing. Victorian moral reformers were making a strong move for  'social purity'. These reformers put pressure on the government to suppress prostitution and close down brothels. Due to Caroline's notoriety in the Little Lon District she was a visible target.
Around the turn of the century Caroline's business narrowly survived challenges mounted by anti-prostitution campaigners.
In March 1906, Caroline was charged with 'keeping a disorderly house'.
As part of a campaign against gambling, her reputation was used to smear Chief Secretary Sir Samuel Gillott by publicly exposing the mortgages he held on her brothels'.
In 1907, a new Police Offences Act made it illegal to manage a brothel, rent a property for use as a brothel, or live off the earnings of prostitution.  By this time Caroline had already closed her business – she was given 14 days to end her house.  Her solicitor Mr. Dethridge was reported to have said 'We cannot undertake to let this place in a fortnight.'[3]
Caroline died in the following year of diabetes and chronic pancreatitis, she remained in her house till her death.  Caroline left her adopted daughter –  Irene Hodgson and her servants generously provided for. Caroline was buried beside her first husband in St Kilda Cemetery.
This Biography has been written in consultation with Historian Barbara Minchinton and Rosalie Savage – the descendant of Madame Brussels adopted daughter Irene Hodgson.
Audio: Podcast episode 3: They called her Madame B | PROV (April 26, 2022) Produced by Kate Follington and Public Record Office Victoria.
Further Reading:
Anderson, M, Madame Brussels – Wayward Woman? Old Treasury Building
Hays S and Minchinton, B Sex and the sisterhood: how prostitution worked for women in 19th-century Melbourne, February 14, 2018
Minchinton, B The Women of Little Lon – Sex workers in Nineteenth Century Melbourne
Latrobe University Press, 2021.
Quinn, K First photo of Madame Brussels, the red light queen of 1880s Melbourne, The Age, 2019
Photo:  Madame Brussels – Caroline Hodgson – Deakin University
Site:  Madame Brussels Lane