Lynne Glaisher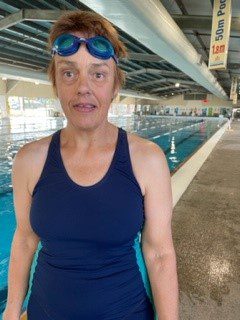 Special Olympics Athlete
Lynne joined the Special Olympics Club Melbourne North in 2012, participating in the sport of Bowling.
In 2013 with her sister Jane, she moved to Special Olympics Club Melbourne Eastern Ranges (MER).  Lynne continued with her love of Bowling for many years.  She was a regular participant in Interclub competitions.
Unfortunately, Lynne did not qualify for Team Victoria in 2018. However this did not deter her at all. She continued on with her regular training and participation.  During this year Lynne participated in the State Games which were a highlight event of the year for her.
At this time she also joined the MER Bocce team participating in club Bocce events like Glow in the Dark as well as the regular Interclub tournaments.
Lynne continued making new friends and enjoying the company of her fellow athletes.
In 2020 after recovering from her hip replacement Lynne also joined the MER swimming team with freestyle and backstroke as her favourite events. Competition against the other Victoria clubs is always a highlight for all athletes.
During Covid lockdowns, the club continued activities with the athletes via Zoom.
Most Sunday afternoons, the online sessions were held with Lynne being an active participant. Topics discussed included – Favourite holiday destinations, favourite pastimes, and the famous MER Baby Show.
At the start of 2022, the two sisters decided on a change, moving to Elmore to enjoy the quieter country life.
Here, Lynne has joined the Special Olympic Echuca club continuing her passion for bowling and swimming.
She continues to visit MER, where she has many fond memories and friendship groups.
This Biography was created in collaboration with Lynne Glaisher and Theodora Niakolas Sports Coordinator Special Olympics Melbourne Eastern Ranges.
Photo: Lynne Glaisher – photograph supplied by Special Olympics
Site:  Gateway Reserve Lilydale
A wonderfully designed playspace with artworks by Yarra Ranges Artist, Paul Sonsie, depicting six inspirational, local sports women from varying points in their career, from up and coming stars to established professionals.
Commemoration: Lilydale Gateway Reserve artwork created by Artist Paul Sonsie of Sonsie Studios, Healesville. Commissioned by Yarra Ranges Council.