Lauren Tesoriero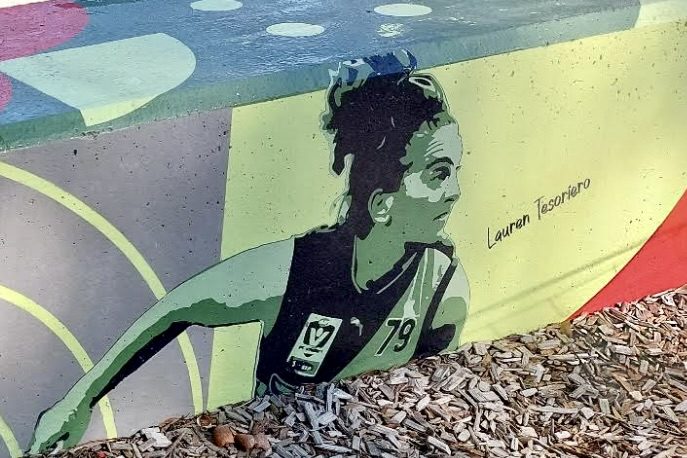 B: 1986
Australia Rules Footballer,  Backline Coach, Recruiter
"I've always had high standards. The coach at Collingwood told me my standards were too high, my expectations were too high. I hated hearing that because I expect the best."[1]
Lauren came from the small town of Mt Evelyn in the Yarra Valley, she learned to play football with her brothers in the backyard.
" I went down to the local club when all my friends started playing, and I obviously couldn't play  – no girls were playing at that time, I think you were allowed to play – but Mum and Dad wouldn't let me."[2]
A family friend convinced her parents to let her play with the  under 10's boys for the last two games of the season  – and they were the only two games the team won that season![3]
At that time there were no girls' teams in football so Lauren turned her athletic abilities to basketball and netball. She played for the Mount Evelyn Netball Club and Then North East Blaze in the Victorian Netball League.
At the age of 18, Lauren was at a local Football game kicking the football around at halftime and was invited to join a new senior football club- the Yarra Valley Cougars.  In 2016,  At 19 she was selected to play for the Victorian State Football Team.  That year Lauren also played for Australia in the first and only Women's International Rules series between Ireland and Australia.
Lauren then joined one of the longest-standing VFLW  clubs- the Eastern Devils. .  In 2012 during training,  she suffered an ACL tear.  Lauren chose to play on the damaged knee without surgery. She rested the knee for three months,  then played for another six months before having surgery.  In 2016 Lauren averaged a goal per game for the club..[4]
While still playing state-league football, Lauren also began coaching netball.
In 2017,  Lauren was selected by the Collingwood Magpies – she described it as a "second wind", after considering retiring. She made her debut in round 1, 2017, in the first AFLW match at Ikon Park against Carland played until in June 2018.[5]
In 2018, After her delisting, Lauren was invited to play in the VFL  program for the Richmond Women's Season.  She began volunteering at the club as a women's recruiter and ended up working as a full-time AFLW recruiter.
In 2019 Lauren suffered another ACL tear in her left knee while playing in June 2019, but again chose to rest then return to play rather than having surgery.
In 2020, Lauren was drafted into the Richmond Tigers. She made her debut against Carlton at Ikon park in the opening round of 2020.  Lauren announced her retirement from Football on the 25th of March 2020.
Photo: Lauren Tessoriero – Lilydale Gateway Reserve artwork created by Artist Paul Sonsie of Sonsie Studios, Healesville. Commissioned by Yarra Ranges Council.
Film: International Womens Day – Breaking the Bias with Lauren Tesoriero, March 2022, A.G Combs
Commemoration: Lilydale Gateway Reserve artwork created by Artist Paul Sonsie of Sonsie Studios, Healesville. Commissioned by Yarra Ranges Council.
Site:  Gateway Reserve Lilydale
A wonderfully designed playspace with artworks by Yarra Ranges Artist, Paul Sonsie, depicting six inspirational, local sports women from varying points in their career, from up and coming stars to established professionals.