Kitty Johnson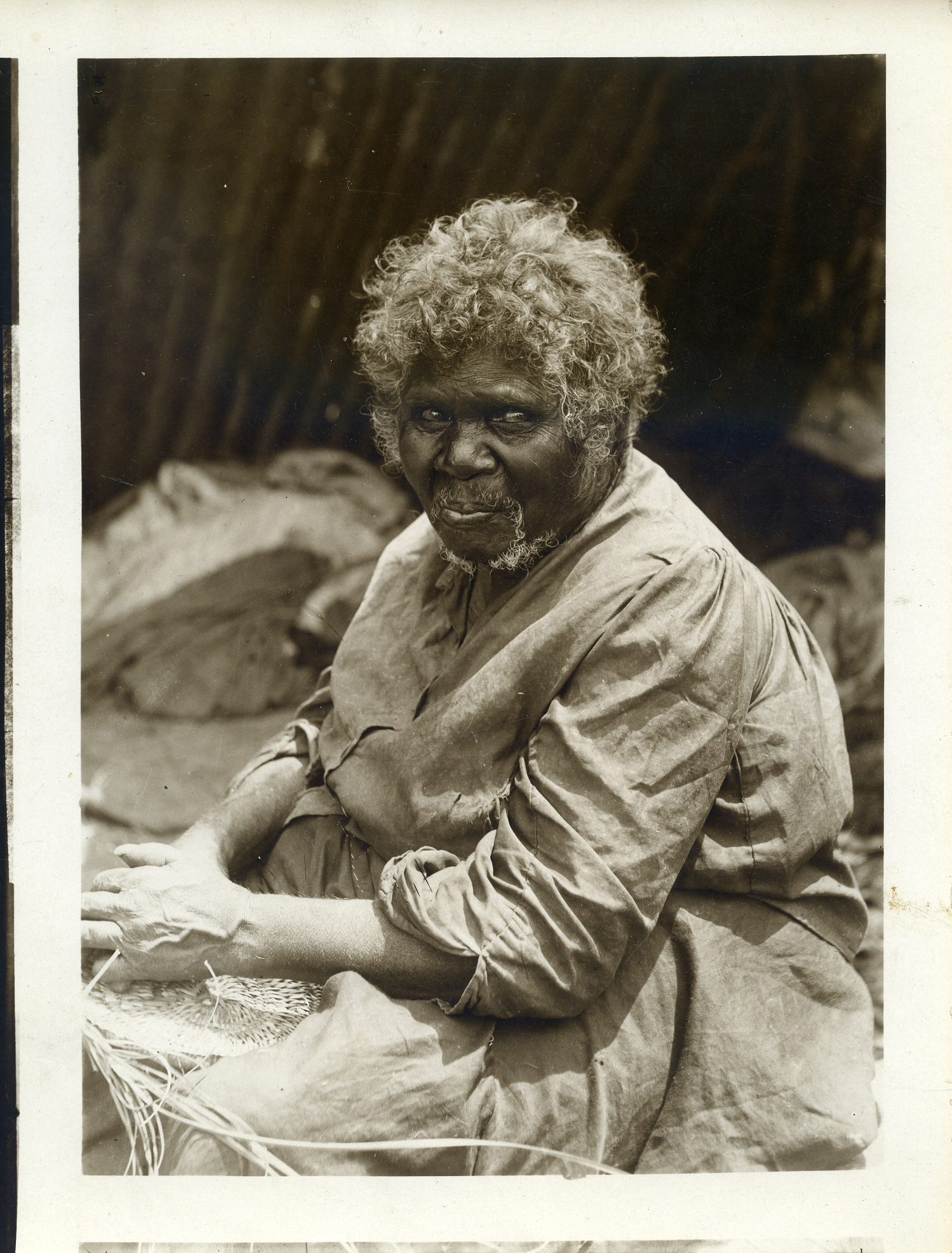 Also known as KITTY PERRY and KITTY JOHNSON
Tribal Name: YOWALLII
1830 – 1924
An initiated Kurnai woman; Storyteller and source of Culture, custom and information; fluent Kurnai speaker; prolific basket and fishing net maker; midwife
What a life! What a legacy! Kitty's descendants span generations who currently live throughout Gippsland.
A champion survivor in her own right, Kitty is the Great-Great-Grandmother of Australian Boxing legend, Lionel Rose.
She was also the most famous photographed, and filmed, Aboriginal woman in Gippsland, and features in many historical accounts and contemporary books on the Kurnai. [1] Wily and quick-to-adapt, Kitty, in her years living on Lake Tyers Mission, would hide under the possum skin rug or wrap a scarf around her head until a tourist had given enough money to take her photograph.
What must it have been like for a young girl living off the land with her family to see the coming of the first white settlers? The first houses and sheep, the first fences, and roads for horses and carts?
Known by white settlers as Kitty of Cunningham (Lakes Entrance), Kitty was a matriarch of the Brabuwooloong and Tatungoloong clans of the Kurnai of Gippsland. Born in 1830 at Lakes Entrance, Kitty survived the Gippsland Frontier massacres, and lived through the Aboriginal mission station era. Kitty had first-hand experience of the repressive and, in some cases, inhumane Australian legislation and practices targeting Aboriginal people, when she and husband, Larry Johnson, and family were forcibly moved, around 1913, from her Country to the Lake Tyers Mission (1861-1971).
Kitty married Larry Johnson at about 20 years old, according to Kurnai custom & law. Larry was a descendant of the Kurnai Tatungoloong/ Krowathunkooloong tribes. They had nine children all born in different areas of the Gippsland region and raised in the Kurnai tribal ways but only three, William, Helen and Thomas grew to adulthood. Kitty outlived her husband, son and daughter Helen who tragically drowned in the Snowy River. Kitty continued to raise her grandchildren in Kurnai tribal ways.
A natural teacher and storyteller, Kitty passed on knowledge of how the sea and land movement changed the landscape creating new sea and water entrances and beaches at Lake Tyers and Lakes Entrance. She taught others about bush food, traditional medicines, and tribal customs.
Kitty passed her basket and net making skills on to other Aboriginal women living on the Lake Tyers Aboriginal Mission Station, who sold the baskets to visiting tourists. These same basket-weaving skills are used today.
Surviving photos show Kitty standing near the Lake Tyers mia camp (which she preferred to the built Mission huts), of Kitty making baskets from natural materials, fishing with nets, Kitty in a bark canoe on Lake Tyers, smoking a clay pipe, and famously, in advanced years.
Kitty's knowledge of Kurnai Culture and Custom, along with her longevity and willingness to share her knowledge and skills has provided the ongoing link and critical foundation on which generations of displaced Kurnai have relied to establish their links to Country, and their understanding of traditional ways.
This Biography was written by Jeannie Haughton in consultation with Aunty Cheryl Drayton – Kurnai Matriarch and descendant of Kitty Johnson.
Photo: Kitty Johnson at Tyers lake – Thank you to East Gippsland Historical Society collection and Aunty Cheryl Drayton for permission to use this image.
Site: Nangara Reserve
Commemoration: The Sculpture of Kitty Johnson was created by local artist Graeme Duell  as part of 'Art Traction' funded by Arts Victoria at Nangara Reserve.
[1] Howitt, A W; Natives Tribes of South-eastern Australia.  McMillan, London, 1904
Pepper, P & de Araugo, T; The Kurnai of Gippsland;  Hyland House, Melbourne,  1986
1912 Kitty appeared in a French film "Dernier's Indigenous Australians" taken at Lake Tyers Aboriginal Mission.