Kathy Watt OAM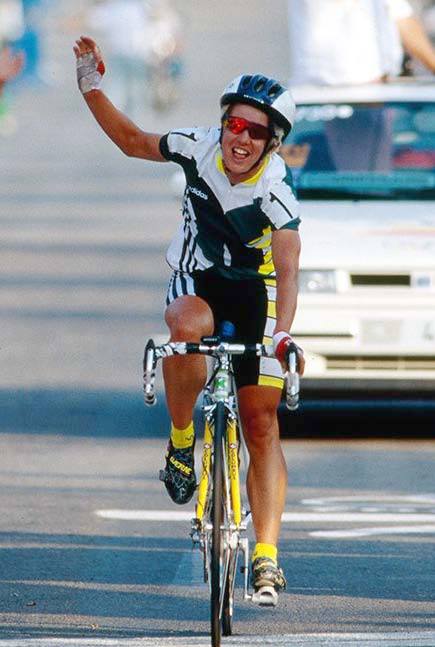 B: 1964
Olympic Gold & Silver Medalist
"Age is irrelevant if you want to achieve something in life" [1]
Kathy's 1992 Olympic win remains, "One of the iconic moments in the history of Australian sport" according to Peter Bartels fellow cyclist and sports administrator.
Kathy Watt is best known to the Australian public as the first Australian to win an Olympic gold medal in the cycling road race. By winning this event in Barcelona in 1992, she made Australian history and inspired a nation. She also won a silver medal on the track at these Games despite not being allowed to train for that event.
After Kathy won Olympic gold, the Australian Institute of Sport established the first full-time cycling program for women. Her success transformed Australian women's cycling and the sport now enjoys a high national profile, with athletes competitive and leaders on the world stage.
But this was not always the case. The lack of funding and support and in some instances discrimination and dastardly deeds meant Kathy almost missed the start of the Olympic win that made her a household name.
The bike she was provided with needed work and with then Head Coach Charlie Walsh disallowed the Australian cycling team's mechanic to assist Kathy and was left with few options but to take a mad dash all over Barcelona to find a suitable bike mechanic. She did and the rest is history. Fighting to win, fighting for a place, and fighting for her rights has been the cornerstone of Kathy's career often shrouding her in controversy.
Her determination, goals & mental and physical preparation made her a fierce competitor on and off the road and track. Inequality and sexism surrounded her and her sport of choice but was something she chose to push through and past and not let it beat her down. It came from within the sport and outside.
Kathy vividly recalls being asked 'how do you look in a bikini' by more than one journalist considering doing a story on her cycling success!
Nevertheless, she persisted. That gold medal Olympic win and her 20-year cycling career made Kathy one of Australia's greatest cyclists ever and a household name.
In addition to her success at Barcelona, she won gold in the inaugural Commonwealth Games road race in 1990 (& Silver in Individual Pursuit -Track) and was the first Australian woman to win a World Championship medal (bronze in the 1995 individual road time trials).
She won three further Commonwealth gold medals, World Cups, and World Tour events and competed in the Tour de France Women six times. Kathy held the leaders jersey in the Tour of Italy until crash in final stages -finishing 2nd (1994) & 3rd (1990) as well as winning the Points Jersey.
Kathy's contribution to cycling has been recognised with an Australian Female Olympic Award, Order of Australia Medal, induction into the Australian Sport Hall of Fame, Victorian Cycling Hall of Fame, and the Victorian Honour Roll of Women.
She is also an award-winning photographer.
Biography created in consultation with Kathy Watt
Film Source: What keeps multi-medallist Kathy pedalling?
Site: Baw Baw Sporting Walk of Fame
Located in Civic Park, Warragul, the Baw Baw Shire Sporting Walk of Fame was created in 1999 in recognition of the region's champion athletes.