Jodi Quinlan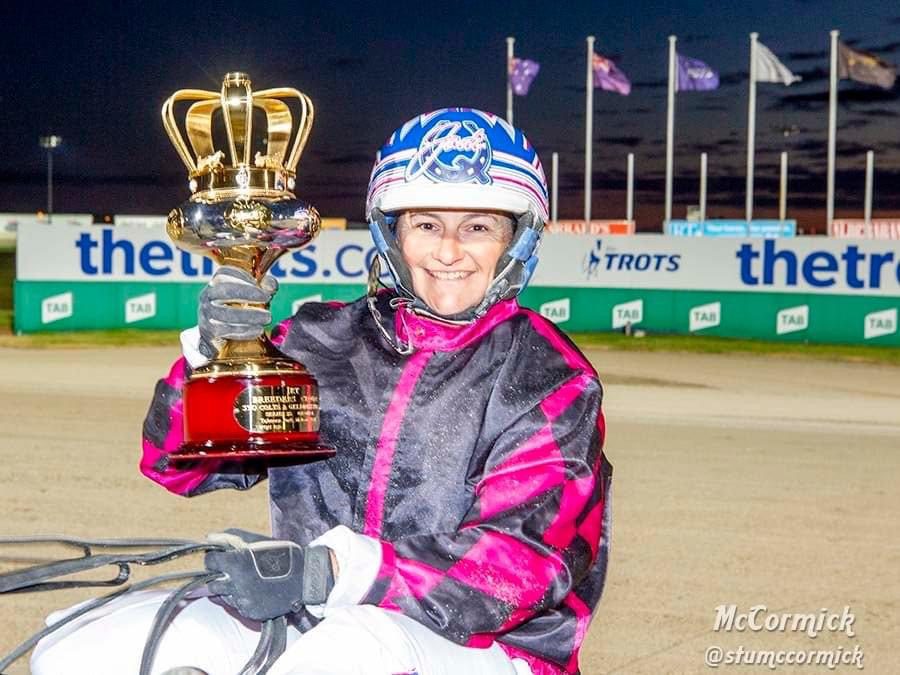 Victorian harness racing reins woman and trainer
"I'm a very competitive person" [1]
Victorian harness racing reins woman and trainer Jodi Quinlan has driven more than 2300 winners in a career that started in 1992 and is still going.
It was June 1, 1992 and for some it was just another manic Monday, for Zephyr Lad's 17-year-old reinswoman it was a nerve-racking opportunity as she commenced just her fifth start.
"I was that nervous, it was all a bit overwhelming at the time." Said Jodi Quinlan
Zephyr Lad was trained by Quinlan's uncle Gary and part-owned by her grandfather Alby, an insight into the outstanding family support that gave her an initial leg up.
"Mum and dad had gallopers and I lost my father just before I turned 15 and went into trotters because that was what was available to me," Quinlan said.
"My uncle Geoff Walker took me under his wing early on and carted me all over the country side. My two uncles and mum have been the backbone of where I got too today," she said.
Quinlan's opportunities enjoyed a steady incline, peaking in 2002-03 when she would drive 990 starters for 162 winners and 258 placegetters. Her greatest win would come in the following November when she piloted Sokyola to the $550,000 SEW-Eurodrive Miracle Mile.
"I look at it as a once-in-a-lifetime thing," Quinlan said. "You have to pinch yourself even now to think that I've won a Miracle Mile."
"I'm proud of the achievement that I've been able to do that," Quinlan said. "I'm very lucky to have had so much support. I'm the one who gets all the accolades and the one who drives them, but it has taken a lot of dirt and tears to get to this stage and you need the support of a lot of people in the industry."
Jodi is the Ambassador for Team Teal The Team Teal campaign is a partnership between WomenCan, the Harness Racing industry in Australia & New Zealand and Tabcorp whereby all reins women race in teal pants to raise awareness and much-needed funds for women with ovarian and other gynecological cancers when they secure first place across the finish line.  Funds raised by Team Teal support ANZGOG's Survivors Teaching Students program and ensures that woman have access to gynecological cancer clinical trials irrespective of where they live,  enabling them to live better and longer.
Biography: Michael Howard (HRV Media/Communications Co-Ordinator) – https://harnesslink.com/new-zealand/quinlan-s-mighty-milestone-2000-winning-drives/
Photograph supplied by Jodi Quinlan – Photographer Stum Mc Cormick
Film Source: Team Teal – Jodi Quinlan Team Teal – Jodi Quinlan