Faith Leech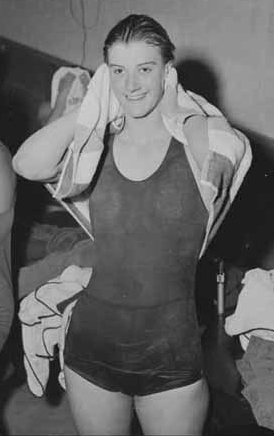 1941 – 2013
Swimmer, Olympic Medallist
Faith Yvonne Leech was an Australian freestyle swimmer who won a gold medal in the 4×100 metre freestyle relay and bronze in the 100 metre freestyle at the 1956 Summer Olympics in Melbourne.
Faith was born with a digestive problem and curvature of the spine. Her digestion was remedied by a naturopath and ballet lessons were attended to gain muscle control, strength and confidence. She also overcame spinal problems to succeed in the pool.
When she was six years old attended swimming classes with Gus Froelich, a recognised Olympic medallist coach. By the age of 12, she was setting an unofficial world record for her age, eventually becoming known as the flying fish.
In 1955, she became the youngest swimmer to win an Australian title in the 110-yard freestyle at the age of 13.
She twice broke the Australian record in the 100-yard freestyle in late 1955, thereby positioning herself as a leading contender for Olympic selection in 1956.
Leech's preparation was hindered by illness, which forced her out of the 1956 Australian Championships, but she recovered to swim the 100 metre freestyle against Dawn Fraser and Lorraine Crapp coming in third and winning bronze in an Australian trifecta. In the corresponding relay, she swam second helping to secure an Australian victory in world record time. Leech retired after the Olympics at the age of 15; she cited anxiety caused by racing as one of the main factors in her decision.
Faith Leech was the first Bendigonian to win an Olympic Medal and was feted upon returning to her hometown. She worked briefly in Melbourne as a model then returned home, married, had two sons, trained as a teacher, and helped run the family jewelry business.
As a woman, she maintained her fitness but as a mother discouraged her two sons from entering competitive swimming, but she taught swimming to disabled children, some of whom represented Australia at the Special Olympics.
In July 1999, Leech was a guest of honour at a countdown celebration to the arrival of the Olympic Torch in Bendigo in July 2000.
In 2001, she was diagnosed with a cancerous tumor in her neck, from which she recovered and became a volunteer for the Cancer Council to help those who were diagnosed with the disease.
In October 2006, Leech combined with 1956 teammate John Devitt to launch 50 Years On — The Melbourne Olympics, a series of stamps from the Australia Post. Leech is an inductee of the Path of Champions at Sydney Olympic Park Aquatic Centre.
She died at her home in Bendigo on 14 September 2013, aged 72.
Photo: Faith Leech, Public Record Office of Victoria
Reference
Stevens-Chambers, Brenda, Celebrating Bendigo Women 2016
This Biography was provided by The City of Greater Bendigo