Dr Vera Scantlebury Brown, OBE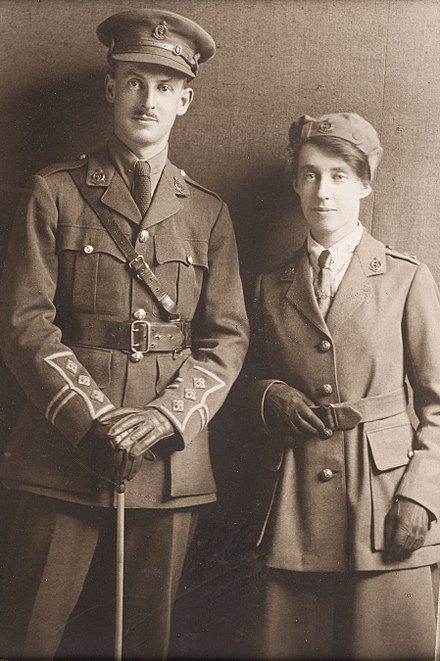 1889 – 1946
Military Surgeon, 1917-1919, London
Pioneer of Infant and Maternal Welfare in Victoria, 1919-1946
'I have planted three trees. The infant welfare tree and ante-natal tree are well established but the pre-school tree still needs a lot of care and tending to make it strong'.[1]
Dr. Vera Scantlebury Brown was a visionary Australian medical practitioner who developed a groundbreaking network of Infant Welfare Centres throughout Victoria. Appointed in 1926 as the inaugural Director of the Department of Infant Welfare, she was the first Victorian woman to lead a government department.
Born in Linton in 1889, the daughter of a medical practitioner, Vera grew up in contact with her father's patients in her home.  She was inspired to attend medical school at the University of Melbourne, where she graduated with a Bachelor of Surgery and Bachelor of Medicine with Distinction in 1914.[1]
Upon graduating, Vera completed her residency at the Royal Melbourne Hospital, and then worked at the Children's Hospital between 1915 and 1917 becoming the Senior Resident in 1916.  In October that year she decided it was her duty to offer her medical skills to the war effort. She traveled to London, working for almost two years as a military surgeon at Endell St Military Hospital in London. This major WWI military hospital was colloquially known as ''The suffragette hospital' as it was created and operated almost entirely by women.
Returning to Victoria in 1919, Vera was appointed as Medical Officer to the Victorian Baby Health Centre's Association established by volunteers in 1917 concerned about high infant mortality rates particularly in industrial inner Melbourne. Her passion for the issue drove her to lecture weekly about mother and infant care to infant welfare sisters.  In 1924, she undertook a specialized educational tour to New Zealand, Canada, and the United States researching children's diseases with recognized international experts.  On return, Vera completed her MD based on her research.[2]
In 1926, the Victorian government commissioned Vera and Dr Henrietta Main to prepare a comprehensive survey of the welfare of women and children in New Zealand and Victoria.  As a result, the Victorian Infant Welfare Division of the Department of Public Health was created.
As its pioneering Director, Vera campaigned tirelessly in this role, working until her death in 1946 to create a professional and universal statewide system of maternal and child health services, free to all parents.  The Vera Scantlebury Brown Memorial Scholarship was established in her honour to support the professional development of women working in all areas contributing to maternal and child health.  Women who currently work in these areas are encouraged to apply.[3]
This Biography was written in consultation with the Linton and District Historical Society, the Golden Plains Shire Council and Historian and Author Dr. Heather Sheard.
Photo:
Dr Vera Scantlebury and her brother Dr George Clifford Scantlebury, 1918, Papers and Memorabilia of Vera Scantlebury Brown, University of Melbourne Archives,
Learn More about Vera: A Heart Undivided : The life of Dr Vera Scantlebury Brown. by Sheard, Heather. | City Basement Books
Commemoration: 
The statue of Vera Scantlebury project was led and driven by Linton  & District Historical Society, created by Artist Lucy McEachern with support from The Golden Plains Council and the Victorian Government's Victorian Women's Public Art Program.
Site:
The Linton Avenue of Honour was established 1920 to commemorate WW1. The statue of Vera  stands opposite an existing memorial of men who served in World War 1, becoming the first public artwork in the Linton township recognising or representing women.