Dr. Gweneth Wisewould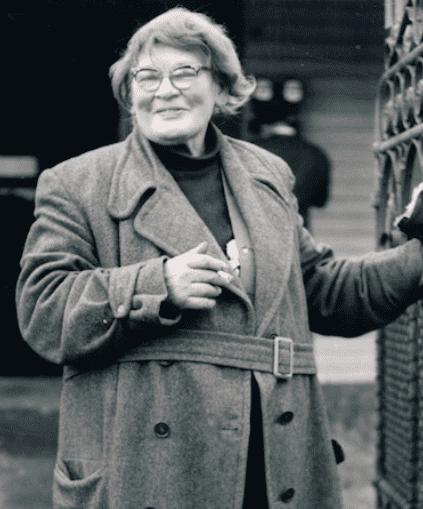 b. 1884 – 1972
Doctor
"you cannot do this work looking pretty"[1]
Dr Gweneth Wisewould was a true individual who cared little for what others thought, but devoted her life to helping others. Graduating in Medicine from the University of Melbourne in 1915, she worked as a surgeon at Melbourne's major hospitals.
Unconventional and artistic, Gweneth mixed in Melbourne's bohemian circles, rode a motorcycle and lived with her lifelong friend and companion Ella Bell. The medical establishment did not approve of her lifestyle or associates and, after being forced to resign from the Queen Victoria Hospital following unfounded allegations, she moved with Ella Bell to Trentham in 1938 to become the town doctor.
Gweneth served tirelessly as Trentham's doctor for the next 34 years and rarely billed for her services. Always the pragmatist, she wore men's clothing and a heavy overcoat, explaining that 'you cannot do this work looking pretty'.
Gweneth embraced her community, just as they embraced her. In 1963, the Trentham community presented her with an engraved silver brooch in gratitude for 25 years' dedicated service. In 1968, Gweneth donated $20,000 to the University of Melbourne to establish the Truganini Scholarships for Aboriginal students, a program that continues to this day.
In 1971, Gweneth published her memoir, Outpost: A Doctor on the Divide. She worked right up until the day of her death, on 20 January 1972, and the whole town turned out for the funeral of their beloved 'Dr Gwen'. A memorial clock now graces the main street of Trentham, with the dedication, 'Erected by a Grateful Public'.
This Biography was written in consultation with Hepburn Shire Council.
Further Reading:
Braybrook Ian, Gweneth Wisewould Town Doctor, 2016 GWENETH WISEWOULD OUTPOST DOCTOR
Photo: Dr Gweneth Wisewould Fairfax images
Film: GWENETH WISEWOULD – Her Place Women's Museum
Site:  The Trentham community embraced Dr Gwen and to this day her distinctive memorial clock  created  by sculptor Stanley Hammond in 1973  graces the main street of Trentham, with the dedication, 'Erected by a Grateful Public'.