Dame Elisabeth Murdoch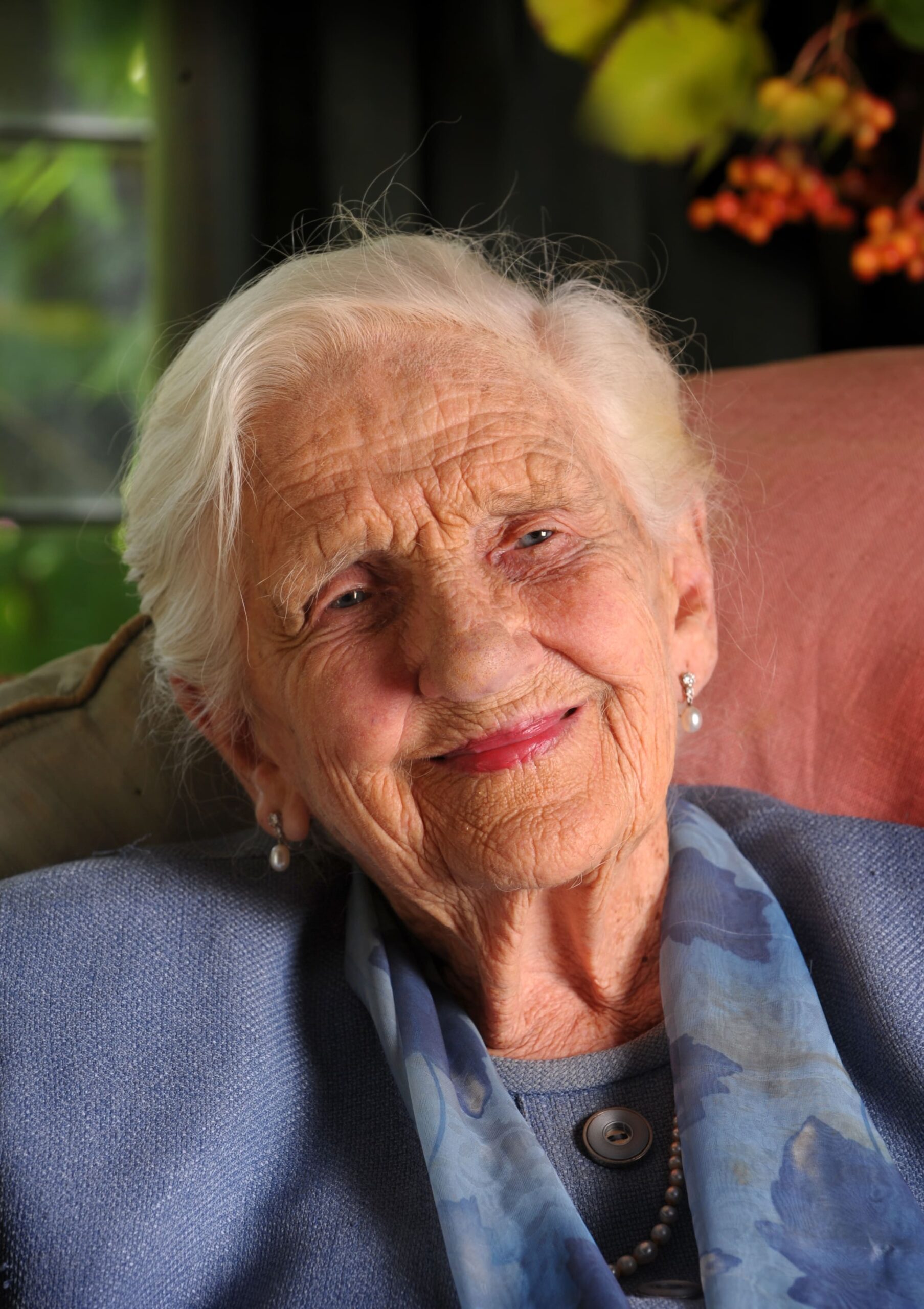 1909 – 2012
Philanthropist
"Be optimistic– and always think of other people before yourself" [1]
Dame Elisabeth Murdoch was a remarkable woman and a much-loved public figure. One of Australia's most notable philanthropists, Dame Elisabeth devoted her entire life to supporting charitable causes. She is fondly remembered for her kindness, generosity, and enthusiasm.
The first cause Elisabeth volunteered for as a child was The Royal Society for the Prevention of Cruelty to Animals[2].  While still at school, she knitted singlets for babies at what is now the Royal Children's Hospital, and volunteered at the Lady Northcote Kindergarten. [3]
At age 19, Elisabeth married Keith Murdoch, who gifted Elisabeth Cruden Farm in Langwarrin. For 80 years, Cruden Farm became a beloved home and garden for Elisabeth and Keith and their four children; Helen, Rupert, Anne, and Janet.
Dame Elisabeth's love and care for children led her to establish The Murdoch Children's Institute and contribute to the building of the Royal Children's Hospital Melbourne. They are her greatest monuments. She was created a Dame the day the Queen opened the hospital and would serve it for 33 years, retiring as President.
Over the years, Dame Elisabeth passionately advocated for and supported numerous organisations and projects in the fields of the arts, environment, and medical research with many buildings being named in her honour.
Elisabeth nurtured a love for gardens throughout her life, once saying that her childhood "world was [her] parents' garden."[4]  She passionately contributed to public gardens projects including The Royal Botanic Gardens, Landscape Architecture at Melbourne University, and Mc Clelland Gallery Sculpture Park.
Dame Elisabeth was the first woman trustee of the National Gallery of Victoria; chair of the committee which established the Victorian Tapestry Workshop; and a benefactor of organisations ranging from the Australian Ballet and Opera Australia to the Bell Theatre Company.
In 2000 the National Portrait Gallery commissioned the Workshop to create a woven Portrait of Dame Elisabeth Murdoch based on a photograph by Christopher Pyett of Dame Elisabeth in her beloved garden.[5]
In 2012 Dame Elisabeth died peacefully in her sleep at age 103.
Known for her love of roses, in 2001 the memory of Dame Elisabeth was fittingly honoured by the Dame Elisabeth Murdoch Hybrid T Rose. This beautiful rose is known for its hardiness, abundant blooms, and vigorous growth.
Dame Elisabeth Murdoch AC, DBE
Freewoman of the City of Melbourne 2012
Senior Australian of the Year for Victoria 2007
Victorian of the Year 2005
Centenary Medal 2003
Companion of the Order of Australia (AC) 1989
Patron of the Murdoch Children's Research Institute 1984
Woman of the Year 1977
Trustee and Founder of the Australian Tapestry Workshop 1976
Trustee of the McClelland Gallery and Sculpture Park 1971
Council of Trustees of the National Gallery of Victoria 1968
Dame Commander of the Most Excellent Order of the British Empire (DBE) 1963
President of Royal Children's Hospital 1954-1965
"Gain comfort from the past, live in the moment and look forward to the future"
This Biography has been written in consultation with the Family of Dame Elisabeth Murdoch
Monument:  Dame Elisabeth Murdoch Statue
A LIFE-size bronze sculpture of Dame Elisabeth Murdoch with her hands open in a welcoming stance is located in the foyer of the Frankston Arts Centre.
Site 1: Frankston Arts Centre
One of the largest outer metropolitan arts venues in Australia, Frankston Arts Centre was designed by renowned Australian Architect, Daryl Jackson, and incorporates an 800 seat theatre, five exhibition gallery spaces, a function centre, a 200 seat black box theatre, and a creative arts hub.
Frankston Arts Centre is the proud performance home to many local theatre companies, dance schools, and local schools, providing a platform for young talent who aspire to a career in the arts.
This venue is inclusive and accessible, with opportunities for people of all ages, backgrounds, and abilities.
Site 1 Acknowledgement of Country: Frankston City Council respectfully acknowledges the traditional owners, the Bunurong people, as the custodians of this land. We pay respect to all Aboriginal community Elders, past and present, who have resided in the area and have been an integral part of the history of the region.
 Site 2:  Cruden Farm
Cruden Farm is one of Victoria's most exciting green spaces. It is a place of public recreation, located less than an hour from Melbourne.
Visit Cruden Farm – a special place left by Dame Elisabeth Murdoch for the people to enjoy, that is now managed by a charitable trust.
Cruden Farm is open throughout the year from Monday to Friday (excluding public holidays)  10 am–4 pm, and once a month on a Sunday.
Site 2 Acknowledgement of Country :  Cruden Farm acknowledges the ongoing custodianship of the Bunurong people and Boon Wurung people of the southeastern Kulin Nation. We recognise their continuing connection to the land, water and community. We pay our respects to all First Nations people, their ancestors and elders, past, present and future.
Bibliography
Coren, V. (2012 December 9). Elisabeth Murdoch's guide to not wasting your time. The Guardian.
Swain, S (2014) Australian Women's Archives Project
Keen, L (2012) Dame Elisabeth Murdoch's son Rupert Murdoch has told her memorial service that his mother embodied the finest qualities of Australia, Financial Review
Szego, Julie (30 April 2003. Melbourne honours its matriarch of generosity, The Age. Retrieved 22 March 2018
Walker, S (2000) Portrait of Dame Elizabeth Murdoch, Australian Tapestry Workshop
Hanna, T. (2017 December 13th, 2017) Dame Elisabeth Murdoch ~ Rose Society Of South Australia
King, J. (2012 December 6). Dame Elisabeth Murdoch dead at 103 – ABC News