Brigitte Muir OAM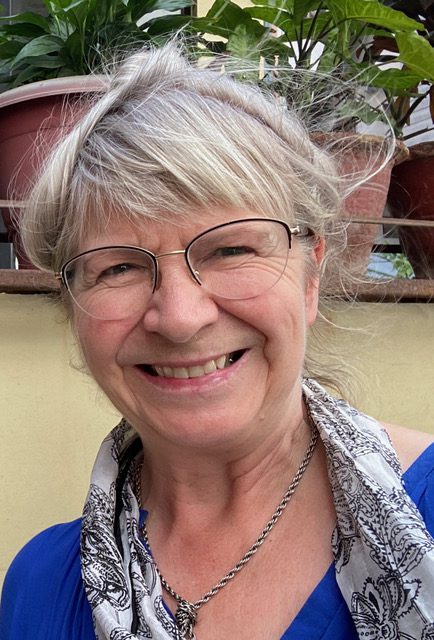 1958
First Australian Woman to reach the Summit of Mount Everest 
"It wasn't easy but I was so motivated to climb that mountain because it also happened to be the last one on my list of climbing the highest peak on each continent. I really, really wanted to finish what I started."[1]
Brigitte Muir is most famous for being the first Australian woman to reach the summit of Mt Everest.   However, she is also a documentary filmmaker, podcaster, writer, and organiser of literacy and empowerment programs for women in Nepal.
Born in Belgium, Brigitte's life changed after hearing a quote as a teenager from French writer Stendhal, which translates as: 'We must live our dreams, not dream our lives.'
She soon discovered caving and later began walking and climbing in the Himalaya and elsewhere. Brigitte moved to Australia in 1983 and became an Australian citizen in 1987. She lives in Natimuk near Mt Arapiles in the Wimmera.
In 1988 Brigitte began a quest to climb the Seven Summits, the highest peaks on each of the seven continents. On the 27th of May 1997, her fourth attempt to climb Mt Everest, she reached her goal.  Brigitte became the first Australian woman to reach the summit of Everest and the first Australian to climb all seven peaks.
She was awarded a Medal of the Order of Australia in 2000 and the Centenary Medal in 2001. In 2001 she was also inducted onto the Victorian Honour Roll of Women.
Brigitte often returns to Nepal to lead community building and personal development treks for private groups.
She also works as a producer and host for West Wimmera Health Service podcast 'Farmer Wants a Healthy Life'. Her creativity also expresses itself through writings, podcasts and videos on her patreon.com/brigittemuir page. Since 2007, she has been filming the story of four girls growing up in a small subsistence farming village in the area below Everest. The documentary is in post production. Since 2018, Brigitte has been a volunteer with the Arapiles Historical Society in Natimuk : she collects stories from the community elders.
This Biography has been written in consultation with Brigitte Muir OAM
Photographs: Brigitte Muir OAM – photographs provided by Brigitte Muir
Film: BRIGITTE MUIR (2018) Her Place Women's Museum
Site: Her Place Women's Museum is a not-for-profit organisation that honours and celebrates the social, civic and entrepreneurial achievements of all Australian women and their role in shaping our nation.
[1] Muir, B quoted by Trajkovich, M (May 31, 2022.)  Living life on top of the world, 9 news.com