Australia First Women's Cricket Match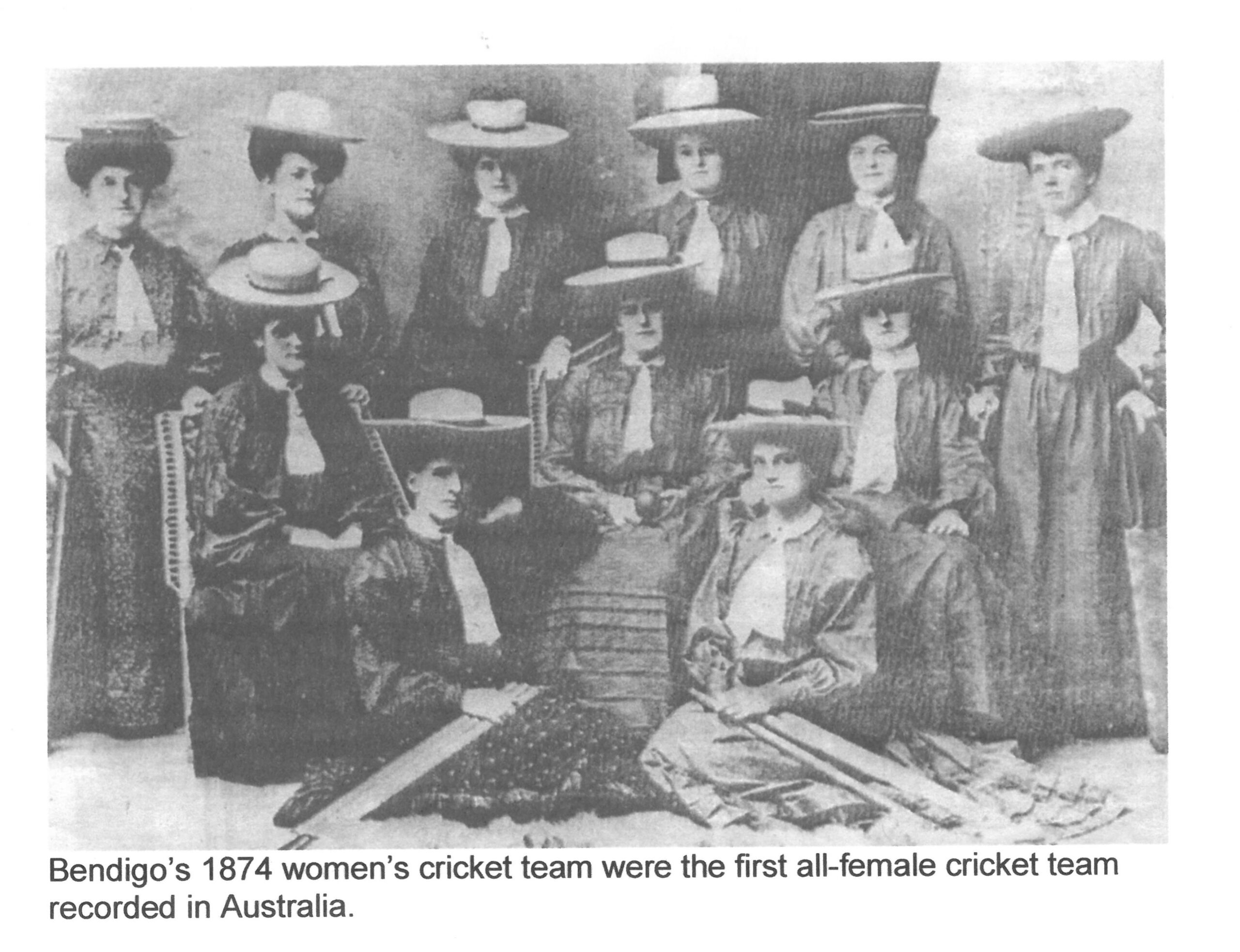 7 April 1874 and 31 March 1875
First game played
"'It certainly required a very considerable amount of courage on the part of the ladies to undertake to play a cricket match in public. The thing was unprecedented as far as Australia was concerned, and such a remarkable event as a ladies' cricket match had seldom happened, even in the old country—the home of cricket.' Bendigo Advertiser, 8 April 1874
Played in front of a paying crowd, the 1874 and 1875 cricket matches were held in Bendigo as part of the Easter Fair to raise funds for the Bendigo Hospital and Benevolent Asylum. The teams were the Reds and the Blues and distinguished by the colours of their jackets.
The match started as a family affair. Headmaster John Rae, of Rae's Ironbark School, suggested the match to the hospital committee, then the ladies took over. Emily Rae captained the Reds and John's daughter, Barbara, captained the Blues, also acting as match secretary in charge of recruiting players. His other daughter, Nellie, played as well.
The cricketers were tutored by members of the Bendigo United Cricket Club (BUCC). At this point in time, the club had cricketers that represented Australia on the world stage.
Both women's matches were instantly deemed a success. Local sports reporters said the skills displayed were equal to those of famous Australian cricketers such as Midwinter, Beswick, Allan, and Wills.
However, a few days after each match, hostile opinions appeared in Melbourne and Victorian regional newspapers.  The players were subjected to months of media abuse. While local, interstate, and international media supported women playing cricket, sectors of the Victorian community, mainly Melbournians, did not.
After the second game, Barbara Rae called on the ladies of Melbourne to play a charity match to support the Melbourne hospitals. It was met with scorn and ridicule. In hearing this, Tom Wills invited the Bendigo cricketers to Geelong to play the charity match, but the Bendigo cricketers declined.
1875 was the last time the Bendigo women cricketers played.
In 1885, a women's cricket club was established in England, and in 1886 women played a match at the Sydney Cricket Ground. In 1888, Queen Victoria was promoting women's cricket as a healthy endeavor, and by 1890 Australian newspapers were full of advertisements seeking interest to create women's cricket clubs.
In 1891, the first women's intercolonial match was played between New South Wales and Victoria, and in 1905 the first women's cricket association was formed.
The Bendigo women cricketers were just ahead of their time.
This Biography was provided by The City of Greater Bendigo Council
Reference
Zedda-Sampson, L (2021)  Bowl the Maidens Over: Our First Women Cricketers, LZS Press, Melbourne.
Photograph:  Bendigo's first women's cricket team (1874)  Bendigo Historic Archives