Amy Castles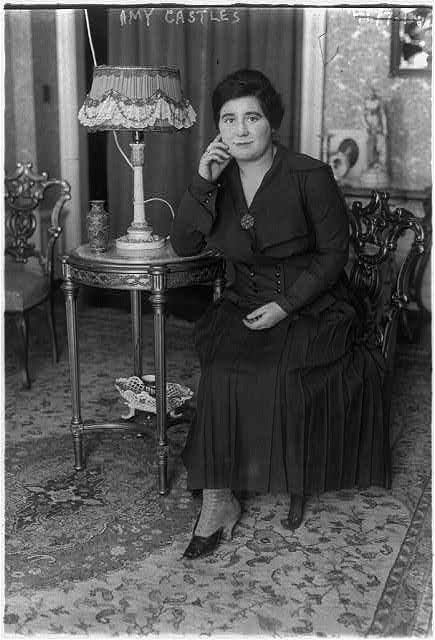 1880 – 1951
Australian Soprano Opera Singer
The 'magnificent quality' of her voice astonished her audience and public concerts were immediately arranged: the 'slip of a girl in a simple white frock' with her hair down to her shoulders created a sensation. [1]
Amy Castles was born in Carlton. When very young, she moved with her parents and several siblings to Bendigo. From a musical family, her talent was discovered while still at school.
Amy's Bendigo debut was as Patience in Gilbert and Sullivan's comic Opera in 1898. By September 1899, she was studying in Paris.
In 1901 Amy made her London debut at Covent Garden. In 1902, she toured Australia. A crowd of 2000 people attended her Australian farewell performance at the Exhibition Building before she returned to London.
In 1905 and 1906, she gave a command performance before King George VII. In September 1909 she returned to Australia for five months singing in 72 venues. Amy returned to London in 1911, accepting a four-year contract from the Imperial Opera in Vienna, and was appointed Chamber singer to the Imperial Court.
Obligated to leave Austria at the outbreak of WWI, she returned to Australia and toured the capital cities, and held concerts for the troops. In 1917, she made her American debut in New York. Amy gave concerts for the sick and the wounded veterans and opened her Manhattan home to visiting Australians.
In 1919 she toured Australia again. In 1930-31 Amy visited Hollywood to take part in a talkie, one of the first films made with dialogue.
In the 1930s, Amy continued to give concerts, sometimes performing with her sister Eileen and managed by a brother.
Amy, who was a diabetic for many years, never married and remained close to her family throughout her life. Amy passed away at Box Hill Hospital in November 1951.
Biography provided by The City of Greater Bendigo
Reference
Stevens-Chambers, Brenda
Celebrating Bendigo Women 2016
Photo: Amy Castles full length portrait Australian Singer – George Grantham Bain Collection (Library of Congress)
Site: The Capital Bendigo
The Capital is a grand, National Trust-listed, Victorian era building with ornately decorated interiors
[1] Australian Dictionary of Biography Vol 7 1979